I love music, I always have. Being native Israeli, I come from a people of rich tradition and deep musical soul.  Although I have been singing most of my life, it took me a long time to find my PURPOSE. My first music project, Lazman Hazeh (For Such a Time as This), really just began as a desire to bless my people, Ahm Israel (Nation of Israel) with encouraging, scriptural words in song… ah,  a purpose.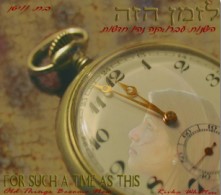 Not long after, a few amazingly gifted people came alongside and added an even more beautiful sound to what I had envisioned. The end result has FAR exceeded my expectations. Lazman Hazeh has received recognition both here in Israel and all over the world, and has given me more opportunities to travel this beautiful earth than I could have ever imagined.
My latest CD, Tzama Lecha Nafshi (My Soul Thirsts for You) can be described in a few words… spontaneous, ambient, healing, meditative, Holy Spirit filled, desert cry, scripture music. It is the spoken Word of God in Hebrew, by native-born Israelis, along with unplanned songs to the Lord from the depths of my heart. It is a unique biblical Hebrew music experience, bringing a rare and fascinating fusion of both the contemporary and the ancient. This CD also is a book of beautiful pictures from the Negev area, which is where we live.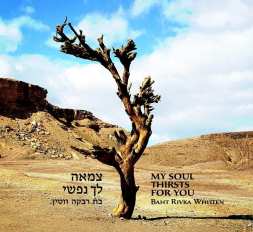 And here's a word from our sponsor about it :)
The latest project from Israeli-born Baht Rivka Whitten, "My Soul Thirsts for You", is finished, and it certainly was worth the wait! Its very title reverberates throughout this spontaneous, one-of-a-kind, creative musical journey. While offering a beautifully designed backdrop for prayer and meditation, these unique melodies release your own creativity, allowing you to respond in song, dance, or a heart-cry to God.
This project was brilliantly engineered in a state-of-the-art studio. The lush sounds of ancient middle-eastern strings, flutes, and percussion will draw you into their tapestry of emotion, and Rivka's rich, prophetic voice blends the sounds of the ages – both old and new. It is literally a voice of one crying in the desert….the vast Negev Desert.
Order your copy(s) before the first printing runs out!
Nancy Carol
Musician, Author, Journalist
Frequent comments I have heard about my voice and music are: haunting, powerful, soulful, moved to tears. I don't tell you all this to toot my own horn — no way! I am honored and privileged to have this gift of music and I take it very seriously. I always strive to sing with my whole heart and soul, whether it's for an audience of one million…… or just ONE (if you know what I mean)………….  Lazman Hazeh (For Such a Time as This).
Exciting News! I am currently working on a third CD and it is nearly finished!
We plan to release it November 2016. Click here to hear more about that and see the New Cover. If you think of it, please say a prayer for its completion and consider helping us make more music!
You can help spread the word about www.lazmanhazeh.com, by following me on twitter, instagram, facebook, checking out my videos on YouTube, commenting, sharing , and last but not least… ordering my CD's! They make great holiday/birthday gifts! Each one you purchase, enables us to give five away to Israelis and supports our effort to bless Israelis in need.
If you would like to be in touch with us, we would love to get to know you! Drop us a line!